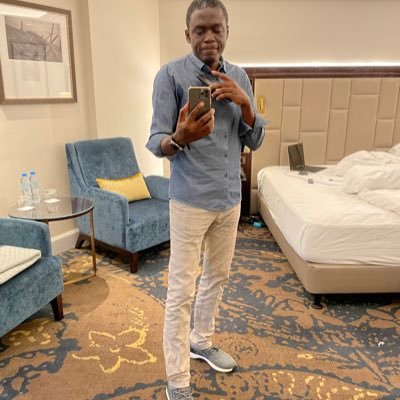 Yax Mokwa
Data Analyst. Python Programmer. A little bit of R. SQL. Too much of Excel and PowerPoint. I am obsessed with cameras and lenses. A husband and father.
Abuja
Captured Spaces

19

Avg. Participants

109

Spaces last 30 days

2
Muhammad Sarki

@Moh__Sarkee

I'm suddenly in love with Corporate/Project Finance. I'm also a strong disciple of #LessonTeacher 💃💃

Abdulslimzy🌶

@abdulslimzy

Global Citizen |Community Developer | P.A to Kogi Deputy Gov. @ed_Onoja |Tweets are my views and not those of my boss or Kogi Government | IG: @Abdulslimzy 🇳🇬

Gimba Muhammad

@moosty_gimba

STEM Educator | Tech Lead/Supervisor | Data Scientist | AI engineer | Python Programmer | Front End Developer | UI/UX Designer

Abu-Zahra Omar Faruok Ibrahim

@umaribm

Biomedical Engineer . Researcher . Scholar . iStandForHumanity . Foodie . Black Tea. Espresso Cafe . Brownies . Follower of Muhammad SAW .
I'm suddenly in love with Corporate/Project Finance. I'm also a strong disciple of #LessonTeacher 💃💃

I do Tech @ https://t.co/LxIrqUbFIS | Bylines @naijanews | NUPE♥️ follow me fam ? Blogger | Draught ? pro | Tech Enthusiast | It's just social media

Writer || Biochemical Engineer || Story Teller || HSE-AESM || Aspiring Data Scientist || Entrepreneur || The alhamdullah soul || Part-time Poet ||

Be anything but ordinary - Be unorthodox | 14 yrs Manufacturering. Business consultant Brand development | #Renewable Energy @tltumi. | @jointhepacs

Architect | Academic | Research Enthusiast | Minimalist | Indoor Environmental Quality |#Abusite | Volunteer @tedxminna RT≠Endorsement
-

Ended:

May 10

- Speakers: 18

- Duration: 2h 16m

138

-

Ended:

May 10

- Speakers: 7

- Duration: 32m

63

-

Ended:

Mar 19

- Speakers: 9

- Duration: 53m

38

-

Ended:

Mar 11

- Speakers: 15

- Duration: 2h 17m

76

-

Ended:

Aug 27 2022

- Speakers: 10

- Duration: 1h 04m

40

-

Ended:

Aug 14 2022

- Duration: 00m

0

-

Ended:

Jun 4 2022

- Speakers: 15

- Duration: 2h 10m

113

-

Ended:

Apr 24 2022

- Duration: 06m

2

-

Ended:

Apr 24 2022

- Duration: 10m

2

-

Ended:

Apr 1 2022

- Speakers: 5

- Duration: 31m

26

-

Ended:

Apr 1 2022

- Speakers: 4

- Duration: 06m

9

-

Ended:

Mar 27 2022

- Speakers: 12

- Duration: 2h 03m

67

-

Ended:

Feb 12 2022

- Speakers: 5

- Duration: 43m

54

-

Ended:

Feb 5 2022

- Speakers: 21

- Duration: 3h 14m

172

-

Ended:

Feb 1 2022

- Speakers: 34

- Duration: 1h 23m

320

-

Ended:

Jan 29 2022

- Speakers: 26

- Duration: 1h 12m

195

-

Ended:

Jan 29 2022

- Speakers: 10

- Duration: 25m

73

-

Ended:

Jan 30 2022

- Speakers: 27

- Duration: 12h 33m

383
-

Ended:

Feb 2 2022

- Speakers: 15

- Duration: 2h 33m

96

-

Ended:

Jan 30 2022

- Speakers: 30

- Duration: 3h 22m

171

-

Ended:

Jan 29 2022

- Speakers: 4

- Duration: 3h 57m

3,216

Ended:

Jan 28 2022

- Speakers: 11

- Duration: 39m

25
-

Ended:

May 7

- Speakers: 9

- Duration: 1h 51m

54

-

Ended:

Apr 7

- Speakers: 22

- Duration: 1h 47m

94

-

Ended:

Mar 20

- Speakers: 34

- Duration: 3h 06m

143

-

Ended:

Mar 17

- Speakers: 48

- Duration: 3h 33m

375

-

Ended:

Oct 23 2022

- Speakers: 5

- Duration: 1h 01m

23

-

Ended:

Jul 4 2022

- Speakers: 53

- Duration: 4h 52m

1,038

-

Ended:

Jun 22 2022

- Speakers: 11

- Duration: 1h 35m

61

-

Ended:

May 7 2022

- Speakers: 2

- Duration: 40m

20

-

Ended:

Mar 12 2022

- Speakers: 11

- Duration: 1h 43m

501

Ended:

Mar 6 2022

- Speakers: 17

- Duration: 12h 33m

1,361

-

Ended:

Feb 28 2022

- Speakers: 29

- Duration: 2h 38m

772

-

Ended:

Feb 25 2022

- Speakers: 28

- Duration: 2h 08m

1,296

-

Ended:

Feb 16 2022

- Speakers: 13

- Duration: 1h 40m

299

-

Ended:

Feb 16 2022

- Speakers: 64

- Duration: 8h 48m

751

-

Ended:

Feb 15 2022

- Speakers: 9

- Duration: 1h 25m

103

Ended:

Feb 9 2022

- Speakers: 5

- Duration: 32m

21

-

Ended:

Feb 6 2022

- Speakers: 9

- Duration: 1h 02m

53

-

Ended:

Feb 3 2022

- Speakers: 27

- Duration: 1h 35m

203

-

Ended:

Feb 3 2022

- Speakers: 16

- Duration: 3h 28m

80

-

Ended:

Feb 1 2022

- Speakers: 260

- Duration: 6h 06m

1,147

Ended:

Jan 28 2022

- Speakers: 22

- Duration: 58m

207

-

Ended:

Jan 28 2022

- Speakers: 14

- Duration: 37m

57

-

Ended:

Jan 22 2022

- Speakers: 115

- Duration: 3h 21m

812

-

Ended:

Oct 16 2021

- Speakers: 84

- Duration: 2h 29m

29